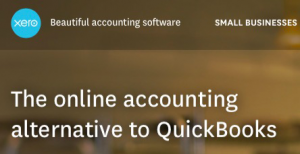 Do you need to integrate Salesforce with Xero?
Almost every client we work with is in need of some kind of integration between Salesforce and an accounting solution. We've done many between Quickbooks and Quickbooks online, and we've helped lots of our clients setup third party solutions as well. Now we are pleased to announce custom integration between Xero and Salesforce.
Benefits of custom integration
Total flexibility – can connect from any object in Salesforce & push it into Xero into the exact databases we require
No 3rd party web services to maintain – the code for this integration lives in Salesforce and is invoked from Salesforce
Xero has a good API – we can write an application in Salesforce that can:

query Xero
insert records into Xero
update existing records in Xero
pass data from the relevant account, contact, and custom object records into customer, invoice, and invoice line items in Xero
Doesn't custom mean expensive?
You'll spend a lot of money on Salesforce and Xero, why not get the integration set up properly? Snapptraffic Consulting is a group of Salesforce system experts who can guide you through the custom integration with Xero and help you to make quick gains at low cost. And you only pay once. Since you're paying for development, there are no ongoing subscription fees. This approach can save you a lot as the years go by.
Snapptraffic can get your custom integration set up quickly without tying up your IT staff with work they are not necessarily familiar with. We stay up to date on the latest Salesforce tools, and we've seen what works and what doesn't.
How do we keep your costs low?
Work is accomplished remotely – no expensive travel
No ongoing fees – pay only for what you need
All work customized to meet your needs – no time or money wasted on "package implementations"
If you have a need to integrate your Salesforce org with Xero or Quickbooks, feel free to contact us. We'd love to hear about your project and give you a feel for the cost and timeline of your custom integration.
Our Commitment
Our commitment to our clients is to provide the most value possible for the expense incurred. Our underlying guarantee is to only charge clients for that which they agree adds value to their system. If you are not satisfied with the work accomplished, you will not be billed.
Where possible, and if desired, we will identify work that does not require our Salesforce expertise and which can be accomplished by your company internally to cut down on hours required. We are happy to train you to do anything that we might otherwise do for you.
100% Satisfaction Guaranteed
We Insist that You Receive Value From Every Consulting Session
If You Are Not Satisfied, You Will Not Be Billed
It matters to us that you receive value from every session we have together or from every hour that we spend working on your system when we are not together. If you are not satisfied with our work, we will remove that charge from your bill.