Need a Mobile App for Salesforce?
November 15, 2013 by admin
Filed under
You see the advertisements every day now when logging into or out of Salesforce.com – it goes something like this: "Building your mobile app to work with Salesforce.com is easy as pie!"
So you start thinking: "okay, cool, my team sure could use a mobile app while out on the road to access their Salesforce.com data, and the standard mobile app doesn't do what we need – so if it's so easy, let's do it."
Then you start trying to figure out how to do it and you realize, this isn't actually "easy as pie." It's actually quite involved. But, it is doable – and Snapptraffic Consulting can help you make it happen.
Snapptraffic Consulting Offers
Expert, on demand help to design custom apps on Salesforce
An experienced team that has written thousands of apps on Salesforce
Flexible Scheduling
Work accomplished remotely, no expensive travel
Keep reading for more on how Snapptraffic can help make your mobile app a reality.
Salesforce Mobile Device Options
Salesforce1 (previously called Salesforce Touch) is just one way to deliver Salesforce data to a mobile device. To provide some clarity, here are all the ways that you might use to connect your user's mobile devices to their Salesforce data.
1) Use the native browser on the device to login in to Salesforce.com
2) Using a Salesforce Sites page – format the output of the website to fit in a mobile browser screen size
3) Build a native application on a mobile device that can access Salesforce data
4) Use HTML5 and the Salesforce1 platform to deliver Salesforce Visualforce pages to a mobile device
It is option #4 that Salesforce is advertising. And while it is WAY easier to build applications on the Salesforce1 platform than it is to build a native application on IOS or Android (option #3), it isn't necessarily "easy as pie".
See How Snapptraffic Helped CLS Investments, LLC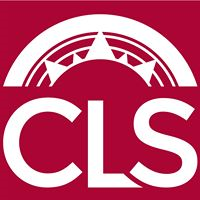 "When the new Salesforce1 mobile app was released, our SF Admin Team was thrilled! As we started to play around and configure the app, we realized it was missing the biggest piece of functionality that our users need – access to their Events. Thankfully, we found Snapptraffic! They deployed a custom solution that filled the major gaps for us at a great price." Read more.
– Jackie Collett, Project Manager – IT Solutions of CLS Investments, LLC
The Salesforce1 Platform – Web Pages in an App
Here is the key thing to know about HTML5 and the Salesforce1 platform: you are simply viewing a Salesforce Visualforce page in the mobile browser on the page without the skin of the mobile browser. Even more simply: it's a web page. A mobile web page. But it LOOKS LIKE an application on the device.
In Salesforce, Visualforce makes it possible for us to write custom pages that provide custom functionality to your users. These Visualforce pages can be built with display on a computer through a normal internet browser in mind, or they can be built with the intent of displaying them on a mobile device.
The Pro – Quick and Inexpensive Development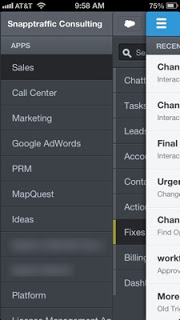 The cool thing about using the Salesforce1 platform is that we can fairly quickly write these Visualforce pages and your users can take advantage of them on their mobile devices. Many companies have realized the incredible  upside to building custom applications on Salesforce. They can provide their user's with the means to quickly handle business processes against their data stored in Salesforce. At Snapptraffic Consulting we've written thousands of these applications and have seen firsthand how the right functionality can greatly increase an employee's effectiveness.
Salesforce1 makes it possible to provide the same kind of custom functionality through the mobile device  when away from a computer. Visualforce pages can be written relatively quickly. Native mobile applications (option #3 mentioned above) are much more time consuming. So writing Visualforce pages that can be deployed through Salesforce1 is a great way to increase productivity for your mobile employees without the expense of producing a native mobile application.
The Con – An Internet Connection is Required
The downside, to use the application you've written, you must be connected to the internet. If you want the application to have the functionality to download data for offline use, then the Salesforce1 platform isn't for you – a native mobile app developed for the device that accesses and downloads Salesforce data (again, option #3) is what you'll need.
Ready to Build Your Own Salesforce1 Mobile Application?
If you're thinking about building a mobile application to access your Salesforce data and want some help making it happen, give us a call. We'd be happy to listen to your idea, give you a feel for the costs and timeline involved, and help make your mobile app a reality.
Work Accomplished Remotely – No Expensive Travel
Meet on YOUR computer using online meetings
Training or Assistance for 1 to 15 People Simultaneously
No Time Away From Work or Wasted Traveling
Help at a Moments Notice
Since Salesforce.com is web based and with the powerful tools available these days, there is virtually no requirement to visit your office physically. This, more than any other factor saves you money and increases flexibility. We can meet at a moments notice or schedule multiple appointments over several days/weeks – online meetings gives us options! Online meetings lets us both look at the same computer screen and accommodate up to 15 people – which is handy for training. A telephone conference line is used for multiple participants.
Your Satisfaction Guaranteed
We Insist that You Receive Value From Every Consulting Session
If You Are Not Satisfied, You Will Not Be Billed
It matters to us that you receive value from every session we have together or from every hour that we spend working on your system when we are not together. If you are not satisfied with our work, we will remove that charge from your bill.