Customer or Partner Salesforce Portals
March 7, 2013 by admin
Filed under
Need A Salesforce Portal or Community ?
Starting from scratch?
Updating or refreshing an existing portal?
As our world and your customers become increasingly connected to their devices, they need (and expect) answers to questions at all times. Make it easy for your customers to be connected with you 24/7, so they can quickly find the information they need when they need it. Snapptraffic can help you plan and build the Salesforce portal you need to meet customers were they are. Contact us to discuss your project.
Salesforce comes out of the box pre-configured with Self-Service, Customer, and Partner Portals. Salesforce is generally referring to all of these types of standard portals as Communities. Beyond that, Salesforce sells licenses for completely custom portals (communities). Not only can Salesforce offer you portals for your customers and for your partners, but they also host websites on their system called "Salesforce.com Sites".
In addition to the portals, Salesforce Sites makes it possible for you to make information stored in your organization's instance of Salesforce.com publicaly visible on the internet. A common example is that of "Job Openings". A database in Salesforce.com of Job Openings for the company can be listed on the internet in a way that the general public can view them.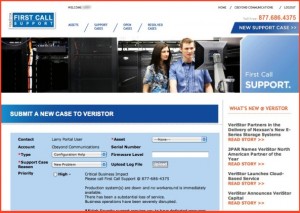 "When we started our search for a company to build our customer portal there were specific requirements that were to be met including seamless integration between Salesforce and our customer portal. After an in-depth conversation with Mike Snapp, it became apparent that Snapptraffic Consulting had the expertise we were looking for in implementing a high-quality customer portal. Mike and his Team worked with us closely, listened and executed our requirements in a timely manner resulting in a customer portal that exceeded our expectations." Read more.

– Larry Jenkins of VeriStor Systems, Inc.
Authenticated Sites and Custom Portals
You may want to authenticate visitors to the site though. For example, if you want to permit someone to submit a resume against one of the listed Job Openings, you may want to authenticate them. This essentially becomes a "portal."
So while Salesforce.com offers portals that require no programming, but rather just "point & click" configuration, some applications don't fit that provided functionality. In the example "Job Openings Resume Submission System", it would probably be better suited to a custom portal built on a Salesforce.com Site.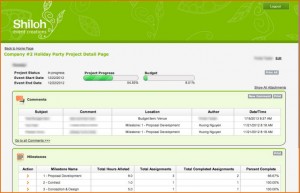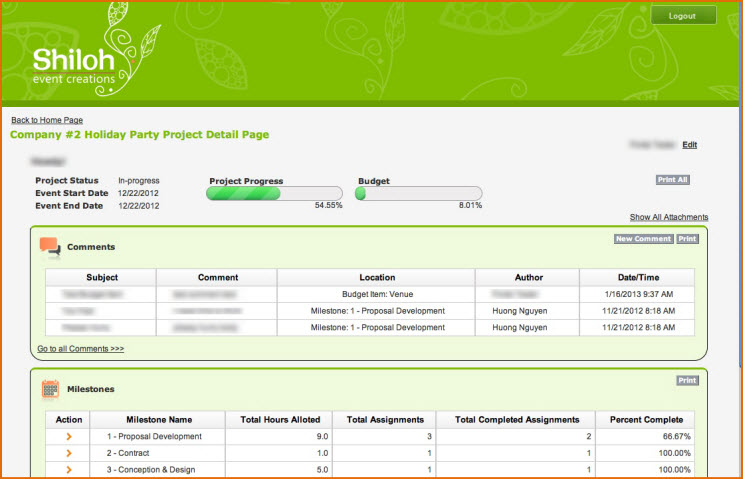 Shiloh Event Creations, an event planning business, needed to move the management of their event planning business into Salesforce.com, but also wanted to distinguish the company from the competition by providing customers a portal in which they follow along real time with the planning of their event. While the standard portal provided by Salesforce.com is easy to setup and modify, it didn't provide the look and feel that they was hoping for. After talking through all the options, they decided that a custom portal with a design based on the existing website would be the best approach. Read more.

Custom Websites Built on Salesforce.com Data
As more companies adopt Salesforce.com for their main business data management and CRM platform, they are finding that they want to build websites and portals based on the data in their system. Deciding on the correct approach can be daunting. There are customer portals, partner portals, self-service portals, publicly visible Salesforce.com sites, and an entire range of custom portal solutions.
"We engaged with Snapptraffic to help us roll out a customer portal with very specific requirements to read customized fields in Salesforce. One of the more challenging tasks was to determine an SLA based on multiple criteria and allow for fluid updates if any of the criteria changed. They were able to meet this perfectly and on time. Mike is very easy to work with and explains the plan to implement so everyone knows their role. The rest of the team was great to work with. We had some very specific requirements that were met on every level. They were always responsive to our needs." Read more.

– Gaylene Dickens of Unitrends
Get Some Help Choosing and Building the Portal You Need
You may know that you need to give your customers or partners access to your Salesforce data in some way, but unsure of the best portal option, or the best Salesforce.com licensing option. There is a BIG difference between the pricing models offered by Salesforce.com, some licenses are as much as $35/mo/user, others as inexpensive as a few pennies. Picking the correct licensing option is critical.
Then when it comes to building your portal, having the correct team in place is also important. Building portals on Salesforce.com requires more than a knowledge of the standard web-development tools. We've got the expertise to build the portal you need.
Ready to Learn More?
As a team of consultants, Snapptraffic has the expertise to help you with any Salesforce.com issue you may face. From initial implementations, to custom development, to portals, we can solve your Salesforce.com problem quickly and inexpensively. You can learn more about our services by clicking the appropriate links. Please use the contact us page to setup an initial consultation. We would be glad to speak with you up to an hour for free to discuss your needs.

Your Satisfaction is Guaranteed!
Our bottom line guarantee is that you receive value from everything we do. If you decide that our work does not satisfy the requirements you gave us, we won't charge you for the work. If you are not happy, you don't pay. We like happy customers who feel like they got their money's worth.