Salesforce has designed an incredible service and support system, Salesforce Service Cloud. It beautifully weaves the sales process into the support process and gives you a great set of tools for helping your support staff take care of your clients after the sale is complete. Maybe you've seen the marketing videos and were initially excited about the promise of the Salesforce Service Cloud, but haven't been able to realize this promise in your own company. We frequently find that to be the case for our clients. They "get" the big picture, and they understand that on some level Salesforce can help them achieve their goals, but they just don't have the expertise necessary to make it happen.
The Challenge
One recent client came to us in this situation.
At the time the client was using standard cases functionality but needed more
Turned on the Salesforce Service Cloud Console but discovered there was so much that didn't work for their unique business processes
They knew extending Salesforce's built-in features was possible with Visualforce, but didn't know where to start
They reached out to Snapptraffic Consulting to request some help taking their Service Cloud to the next level.
Finding a Solution
To help them adapt Service Cloud for their needs, we:
Analyzed their unique business process
Designed a system that would support this process
Customized their Salesforce org significantly in order to align its functionality with their process
The standard Service Cloud product from Salesforce is packed with a lot of great functionality, but they make it possible for us to really take things to the next level with their development platform. By writing APEX code, we can write entirely new pages and functions that are fully unique and fully tailored to the process at hand. This means we can take advantage of the out of the box functionality that comes with Salesforce, this keeps the cost down. But when standard Salesforce functions don't support your process well, we build custom functions that do.
The Results
Instead of spending time toggling between screens, support staff now has all the case information they need on a single page
Customer issue resolution happens faster
Support staff are more efficient in case resolution and management of their daily tasks
For this client, we took full advantage of the Service Cloud out of the box functionality, but we also wrote many custom functions so that their support reps could do all that they needed to do on one page, and all those functions were right at their fingertips. Much of this capability was delivered through the incorporation of Visualforce into their Service Cloud Console.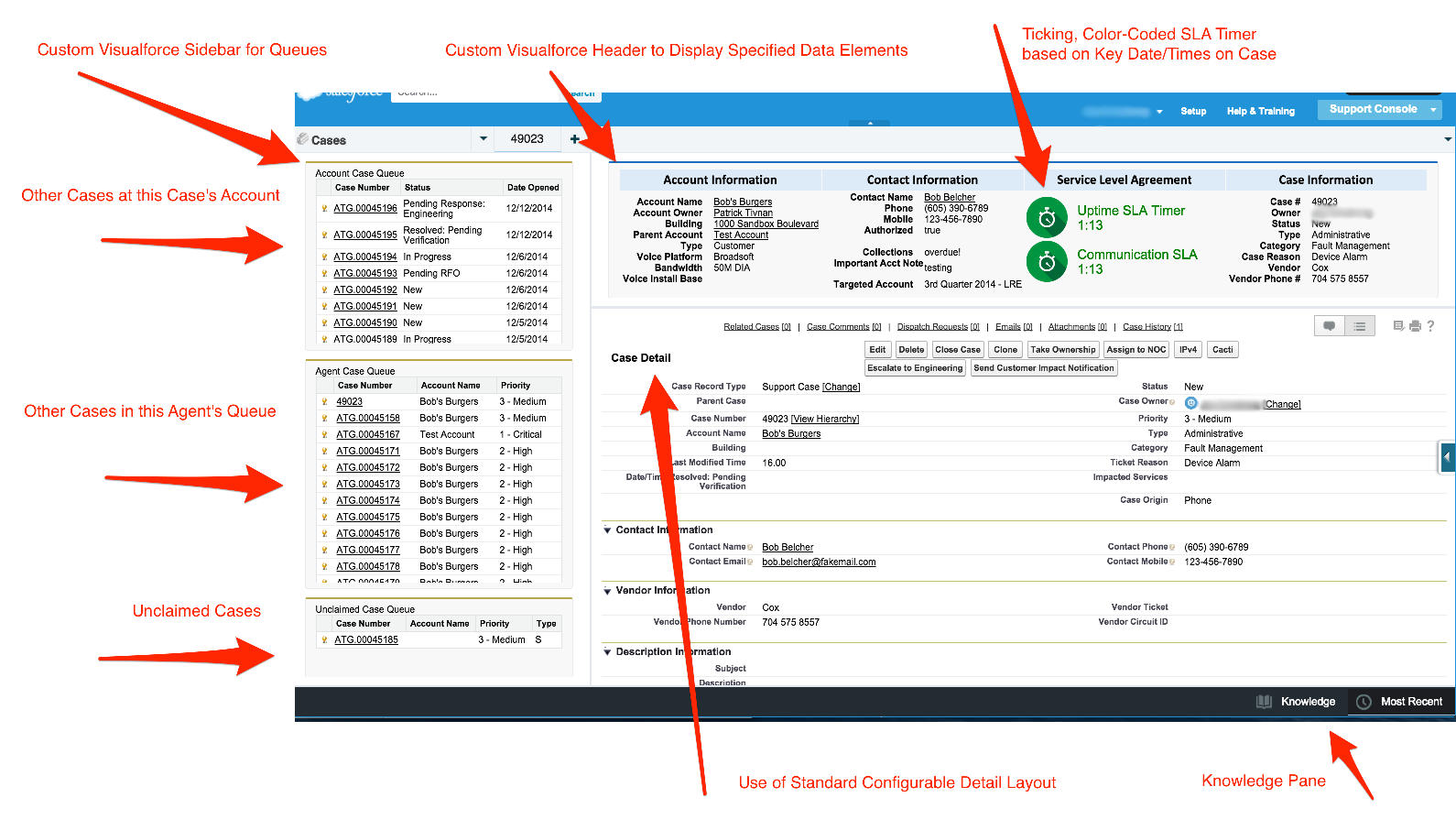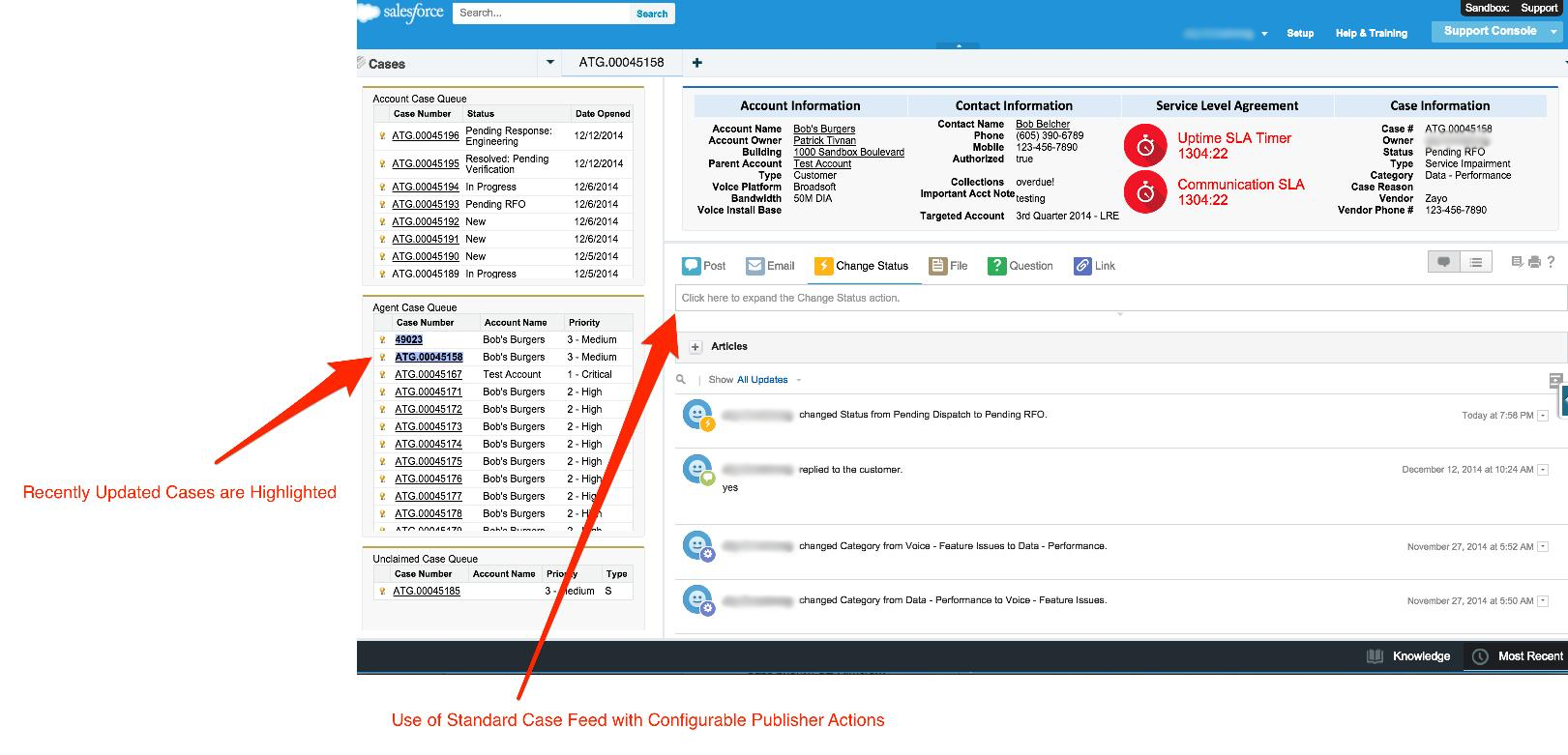 This is a great case study because it shows a Salesforce subscriber who has fully realized the promise of the Salesforce Service Cloud Console. This is possible! In our estimation, Salesforce appropriately promises great things with their Service Cloud, but they understate what it actually takes to make this a reality. Their sales teams will do a great job putting together a powerful demo, but the system you eventually buy won't come with the configuration that was demonstrated. They're expecting you to build that yourself – and most companies, while experts in their field, aren't experts in Salesforce setup and development.
Get Help with Service Cloud
That is where we come in. We speak to a lot of Salesforce customers who just haven't figured out how to make it do all that it should be able to do. We meet with you, learn your business processes, and setup Salesforce to truly satisfy your business requirements. Our goal will be to balance your requirements with the budget that you have to make this happen. We can lean toward configurations of the standard functionality when cost is the greatest concern. For those where speed and optimized work processes are critical, development of custom systems can automate, speed up, and standardize the output of your support team.
Our Commitment
Our commitment to our clients is to provide the most value possible for the expense incurred. Our underlying guarantee is to only charge clients for that which they agree adds value to their system. If you are not satisfied with the work accomplished, you will not be billed.
Where possible, and if desired, we will identify work that does not require our Salesforce expertise and which can be accomplished by your company internally to cut down on hours required. We are happy to train you to do anything that we might otherwise do for you.
100% Satisfaction Guaranteed!
We Insist that You Receive Value From Every Consulting Session
If You Are Not Satisfied, You Will Not Be Billed
It matters to us that you receive value from every session we have together or from every hour that we spend working on your system when we are not together. If you are not satisfied with our work, we will remove that charge from your bill.