Do you need to distribute Leads or Cases in Salesforce in a round robin fashion?
Snapptraffic has written a Round Robin Salesforce application that will evenly distribute either Leads or Cases to your team. Read on to learn more or contact us now about a FREE TRIAL!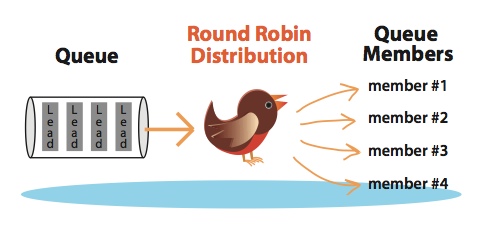 This system uses the existing Salesforce queue system. So managers can setup as many round robin distributions as desired and easily incorporate them into the standard assignment systems already present in Salesforce. Therefore, it is simple for the administrator to distribute records to both standard and round robin queues at the same time.
This application consists of a page where a manager can easily activate or deactivate queues for round robin distribution and decide who should be part of the distribution. The interface is simple and intuitive. The manager will have complete control over the entire process without having to deal with the various complex ways that administrators have traditionally managed round robin record distribution.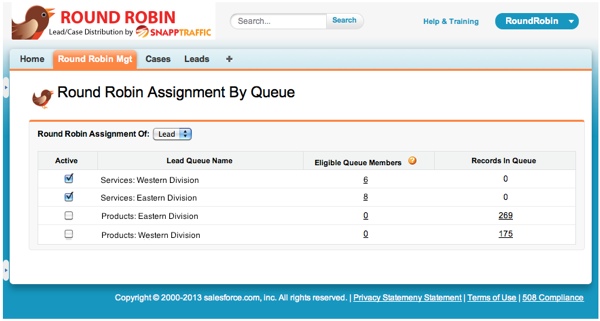 Since this application is already developed, it can be deployed to your instance of Salesforce immediately. Click here to Get Started  and we'll contact you as soon as possible and install this application for you. Free trials are available and encouraged.
Pricing
We charge a low monthly fee (right now $7/user/month) based on the number of users receiving records in the distribution. For example, if you have 5 sales reps who you would like to include in a queue activated for round robin distribution, you would required 5 licenses.
Custom Development
You may find that you have additional requirements that are not satisfied by the approach we have taken in our application. For example, you may want to schedule distributions in advance rather than on the fly, or automatically remove users from distributions at a certain time in the day. The application as written does not include these features. In these circumstances we can custom develop a Round Robin distribution system according to your exact specifications. As a consulting company that does a great deal of custom development, we can quickly and inexpensively build a system that handles your unique requirements.
Use the Contact Us page to make an inquiry. We'll call you as soon as possible, discuss your requirements, and give you an estimate of the development costs involved. There are no subscription fees associated with custom development, just the cost of the development itself – you own the system when it is complete.
Your Satisfaction is Guaranteed!
Our bottom line guarantee is that you receive value from everything we do. If you decide that our work does not satisfy the requirements you gave us, we won't charge you for the work. If you are not happy, you don't pay. We like happy customers who feel like they got their money's worth!